Address Books - Refillable & more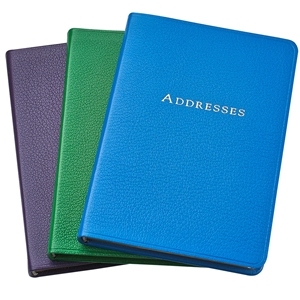 Our Timelessly Cool Address Books
Keep your data secure even if your computer or cell phone crashes
A great gift for you and for everyone you know
Butter-soft leather/recycled leather covers, 100% renewable cotton, gilt-edged, ivory colored, acid-free, smooth pages that are an absolute dream to write on. Make every day special using these luxurious address books!
Ring-bound, refillable forever address books or smith-sewn

Phone: 1-800-866-7367, 1-781-771-9552 International, or TEXT us @ 617.733.5335 ~ Get one for everyone - Order Now! Scroll Down to SHOP...
It's that time of year ~ Fall reminds us to give thanks, share Family Holidays, and celebrate Weddings
Didn't get an invitation to the Royal Wedding?, live like a Royal and give the gift everyone wants ~
a Family Crest or Monogram Embosser, matching wax seal, Amalfi Stationery and Journals and
a hip leather Meghan Markle styled tote to toss it all into!