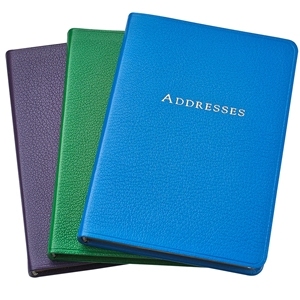 Our Timelessly Cool Address Books
Keep your data secure even if your computer or cell phone crashes
A great gift for you and for everyone you know
Butter-soft leather/recycled leather covers, 100% renewable cotton, gilt-edged, ivory colored, acid-free, smooth pages that are an absolute dream to write on. Make every day special using these luxurious address books!
Ring-bound, refillable forever address books or smith-sewn

Quick Turnarounds. Corporate and quantity orders welcomed. We offer stock engraving as well as custom engraving - company logo, family crest, custom monograms and messages and other custom designs - from your original artwork.
Instant Price Quotes!
Email your .jpg, or .pdf to info@scribesdelight.com

Phone: 1-800-866-7367, 1-781-771-9552 International, or TEXT us @ 617.733.5335 ~ Get one for everyone - Order Now! Scroll Down to SHOP...

FREE Monogram, Gift Wrap & Shipping on Address Books (excluding minis)! and on Holiday Essentials like travel Journals, Phone Cases & Totes!