SeaGems Sea Inspired Jewelry Creations
›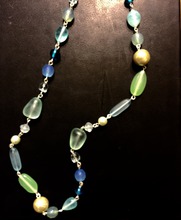 Why wait until you have chance to be by the sea?
Experience it every day with our superb SeaGems Jewelry Delights
Seaglass and pearls artfully, playfully cascading down a gilded chain
Sparkling crystals suspended from a woven-rope metal chain, gleaming like the sun capturing the waves at sunset
The drama of one oversized pearl making a simple, refined statement on a single strand of interlocking silver
Or a luxuriously long chain of crystals which mimic the multi toned beauty of an abalone's inside shell, paired with pearl pieces and golden beads which remind us of the surface of octopus arms.
And a reach inward to a turquoise pendant wrapped in and suspended from a rope of silver.
These magical pieces and more await you in our New SeaGems Collection of Jewelry Delights.